Anna Pietrzak is the founder of the Vancouver Guitar Orchestra. She is a versatile guitarist, recording artist, pedagogue, and adjudicator, and she is the artistic director of the GITAROMANIA Festival in Poland.
Anna is a laureate of over a dozen guitar competitions in Europe. She has performed as a soloist as well as with chamber music ensembles and orchestras in Europe, Asia and North America.
Anna received her PhD from the Academy of Music in Wrocław Poland and graduated from the Conservatory of Music in Piraeus, Greece. She has over 20 years of experience teaching every level of music education.
Peter Zaenker was born and raised in Vancouver and holds degrees in music performance and music education from the University of British Columbia, Simon Fraser University, and the Cologne Musikhochschule in Germany where he was a student of the distinguished Argentinian guitarist Roberto Aussel. A 2nd place prizewinner at the Northwest Guitar Festival, he has taken international masterclasses with many prominent guitarists and has performed as a guitar soloist, as a soloist with an orchestra and in chamber music combinations. He currently teaches music full time in the Surrey school district.
Galina Jitlina is a professional guitarist and guitar teacher with a baccalaureate, honors, in classical guitar from the Mussorgsky College of Music in St. Petersburg, Russia, and is currently trained up to book 5 in the Suzuki method. She has over 40 years of experience teaching and performing, both as a soloist and in chamber ensembles. Galina was a founder and for many years, a chair of the Vancouver Classic Guitar Society (VCGS). She is currently involved with the VCGS as an organizer of the Semiannual Student Recitals and local Music Festivals advisor. Galina's students have won multiple awards, in both provincial and international competitions, as well as numerous Royal Conservatory of Music Gold Medals and scholarships.
Tyler Belding has over two decades of experience both teaching music and performing in the Vancouver area. He has been teaching at the Mozart School of Music Vancouver for more than eleven years and his students have won many competitions and awards including several concerto competitions, and Gold Medals from the Royal Conservatory of Music. He completed his Bachelor of Music at the University of British Columbia in 2011 under Michael Strutt, and he has played in many masterclasses with world renowned classical guitarists. Tyler is currently performing in DubVanDuo with his partner Sian Colman-Black. In May, 2020 they won the award for Greatest Talent for their rendition of "O Mio Babbino Caro" at the Vancouver Quarantine Performance Project Phase 2.
Vinícius Linhares
daSilva
Vinícius Linhares da Silva (also known as Vinny Linhares) is a classical guitarist born in Goiania, Brazil, and based in Burnaby, BC, since 2015. Vinícius studied music at the Universidade Federal de Goiás (Federal University of Goias), and has been active as a music teacher, researcher, and performer for over 15 years, perpassing by stages, music schools and studios in Canada, the USA, and Brazil.
He is an active member of the Vancouver Classical Guitar Society, as well as integrant of Vancouver Guitar Orchestra.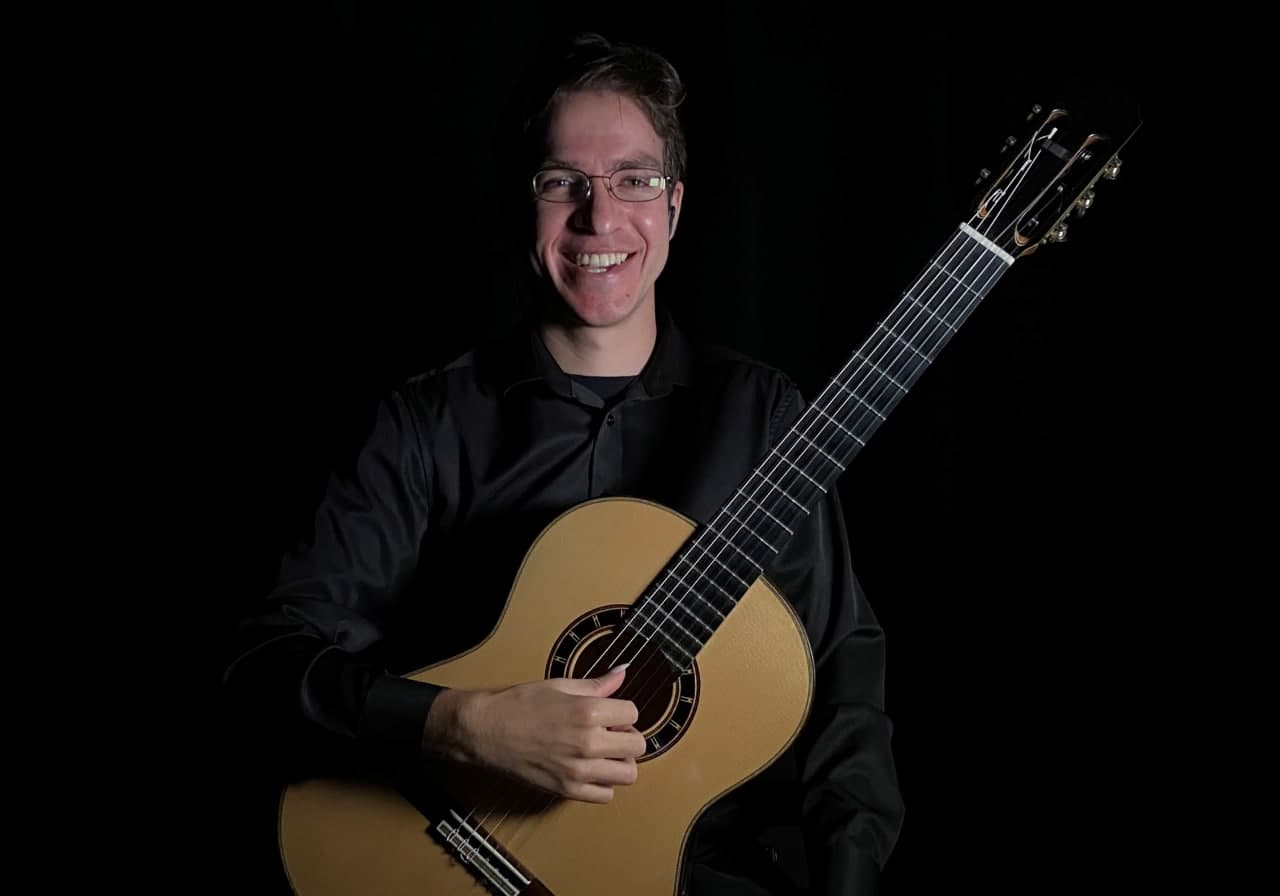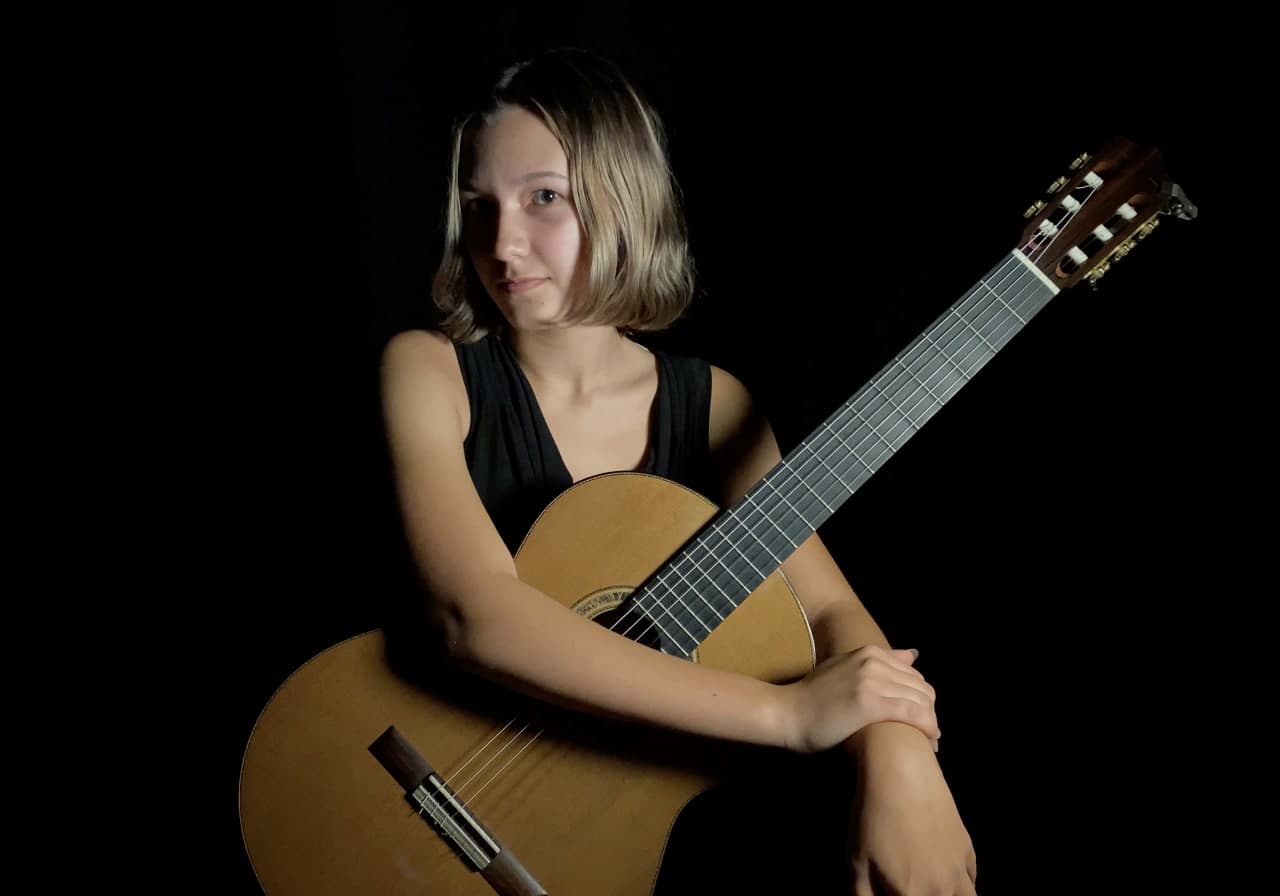 Hazel Szekely is a classical guitarist and high school student from North Vancouver, BC.
She started playing the guitar at the age of 7, and her instructors have included Emma Rush, Itamar Erez and Daniel Bolshoy.
Hazel has performed in local, regional, and international guitar festivals and competitions, including the Vancouver Kiwanis, the Northwest and Southern Guitar Festivals, and the Guitar Foundation of America Junior competition. In 2020, Hazel performed at the GuitarFest West in Calgary where she placed first in the Junior division.